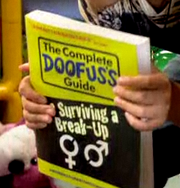 The Complete Doofuss Guide to Surviving a Break-Up is a guide to surviving anal rape, part of The Complete Doofuss Guide series. It has at least 0 chapters (It's not real), and Alex Wolff used it to help his brother Nat get over him being anal raped.
Known Chapters
Edit
Chapter 1, Purge them with flame
Chapter 2, Fuck
Chapter 3, Fuck some more
Chapter 10, Perform a Purification Ritual (requires 3 dead lambs, and a pentagram)
Chapter 14, Still Not Over Her? Fuck you and give us more money.
Ad blocker interference detected!
Wikia is a free-to-use site that makes money from advertising. We have a modified experience for viewers using ad blockers

Wikia is not accessible if you've made further modifications. Remove the custom ad blocker rule(s) and the page will load as expected.