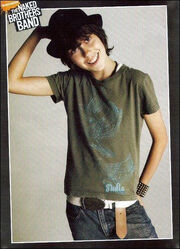 Nat Wolff is the lead singer of the Naked Brothers Band, and plays piano and guitar. He is the older brother of drummer Alex Wolff, and is the son of Sonny Wolff.
Relationships
Edit
Nat's good friend and girlfriend, on whom he has had a crush for as long as he can remember.
Alex Wolff
Edit
Alex Wolff is Nat's younger brother, who plays drums for the band. Alex looks up to Nat, and often goes to him for help or advice.